Nikos Mamangakis
Biographical note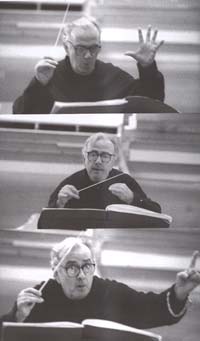 Nikos Mamangakis was born in Rethimno, Crete. He attended lessons at the Greek Conservatory of Athens. He continued studying musical composition with Carl Orff and H.Gedamer in Munich and electronic music at the SIEMENS Electronic Music Studio with Joseph Anton Ridle. He received various scholarships from the Greek government, the Supreme Music Academy of Munich and the city of Berlin (Deutscher Akademischer Ausiauscudiensi).

He began his career in the late 80's operating the early electronic means in an original and personal way. He follows an advanced musical path, based in part on elements of traditional Greek heritage, but with many personal traits in regards to structuring the sound. We can definitely see this in accomplished compositions such as "Music for 4 protagonists" (1959-60) for 4 voices and 10 instruments, based on text by Kazantzakis, "Constructions" for flute and percussion (1960), "Combinations" (1961) for percussion and orchestra, "Lingual symbols" (1961-62) for soprano, bass and large orchestra, "Cassandra" for soprano and 6 instruments (1963). He also wrote a significant "Cycle of numbers": Number 1 is the "Monologe" for solo cello (1962, 2nd award in A. T.I. contest), number 2 is "Competitions", a conversation between a cello and percussionist who moves according to the shape of a bow while performing on stage (1963), number 3 is "Trittus" for guitar, 2 contrabass, santouri and percussions (1966), and number 4 is "Tetractus" for string quartet whose structure is based on number four (1963-66). Also the "spectacle-Acroama" for voice, actors, instruments (1967), the "Scenario for 2 improvisational art critics" for voice, instruments and magnetic tapes (1968), "Antinomies" for soprano, flute, 9 instruments and small chorus (1968), "Bacchae", an electronic ballet (1969), "Performance" (1969) for voice, flutes and tape, the "Exercise" for cello solo (1969-70), the "Summary" for flute (1970), the one act folk opera "Erofili" (1970), the "Mourning" for the remembrance of Yannis Christou for solo guitar, the "Encomium for Nikos Skalkota" for solo clarinet (1978). He has written chamber music, theatre-cinema and TV music, operas, electronic music, pieces for orchestra and solo instruments and of course song cycles which have now been upgraded (as has most of his work) and distributed by "IDAIA" music industry, In 1972 he wrote "Kikeonas" (Muddle in English) which was commissioned for the Munich Olympic Games. Right after that came "Magodia" commissioned by CANADA CANCEL.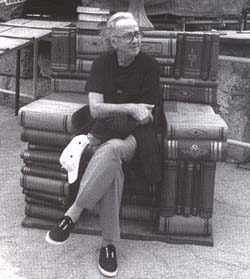 His "music for piano and instrumental ensemble» is similar to the above and has been performed repeatedly, In those early years, his orchestral compositions climaxed with "Anarchy" concerts, a commission by the Donaushiegen Festival- a piece for five timpani and a large orchestra, considered to be one of the most significant compositions of our century (Boston Symphony Orchestra).

Mamangakis confronted and participated in the radical and rigid music of our time on the one hand and on the other in the more popular and easy-on-the-ear music, combining the two in an unusual way. He doesn't see any contradiction in composing for both forms, letting one run into the other from time to time. Therefore he has written music for various Greek films such as 'The Lady and The Vagrant", "The Fairy and The Young Man", almost all of Nikos Perrakis' film scores, as well as song cycles like "The Centre of Passers By", "11 Folk Songs".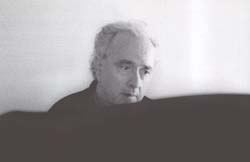 His involvement in TV and film music was focused more in West Germany. He wrote the music for Thomas Mann's film "Felix Croyle" and the worldwide famous hit series of Edgar Reitz HEIMAT Ι,ΙΙ,ΙΙΙ. It was a 56 hour film, the biggest movie of all times, with over 20 hours of music. An amazing task, considering its size. The premiere was held at the Munich Opera in 1992.

In the mid 80's he presented two new operas "Odyssey" and "Erotokritos", recorded in this catalogue with 9 alterations and further additions. A special edition of the "Erotokritos" opera was performed at the National Theatre of Orleans on 01/04/2005.
This particular performance of the composer continued with "Shadow Opera" (Festival Hall of Athens-Megaro Moussikis-1997), "The Sacred Love Songs" (Festival Hall-2000) and finally "Erofili" (Herodium-2003).

His personal vivid originality makes Mamangakis distinguished among the greatest composers not only in Greece but worldwide. "Next to Xenakis, Skalkotas and Christou I would place Mamangakis", Gunther Becker, a demanding composer and professor, once stated.

G. Papaioannou